The Vintage Cosmetic Company NANCY Re-Usable False Eye Lashes
11200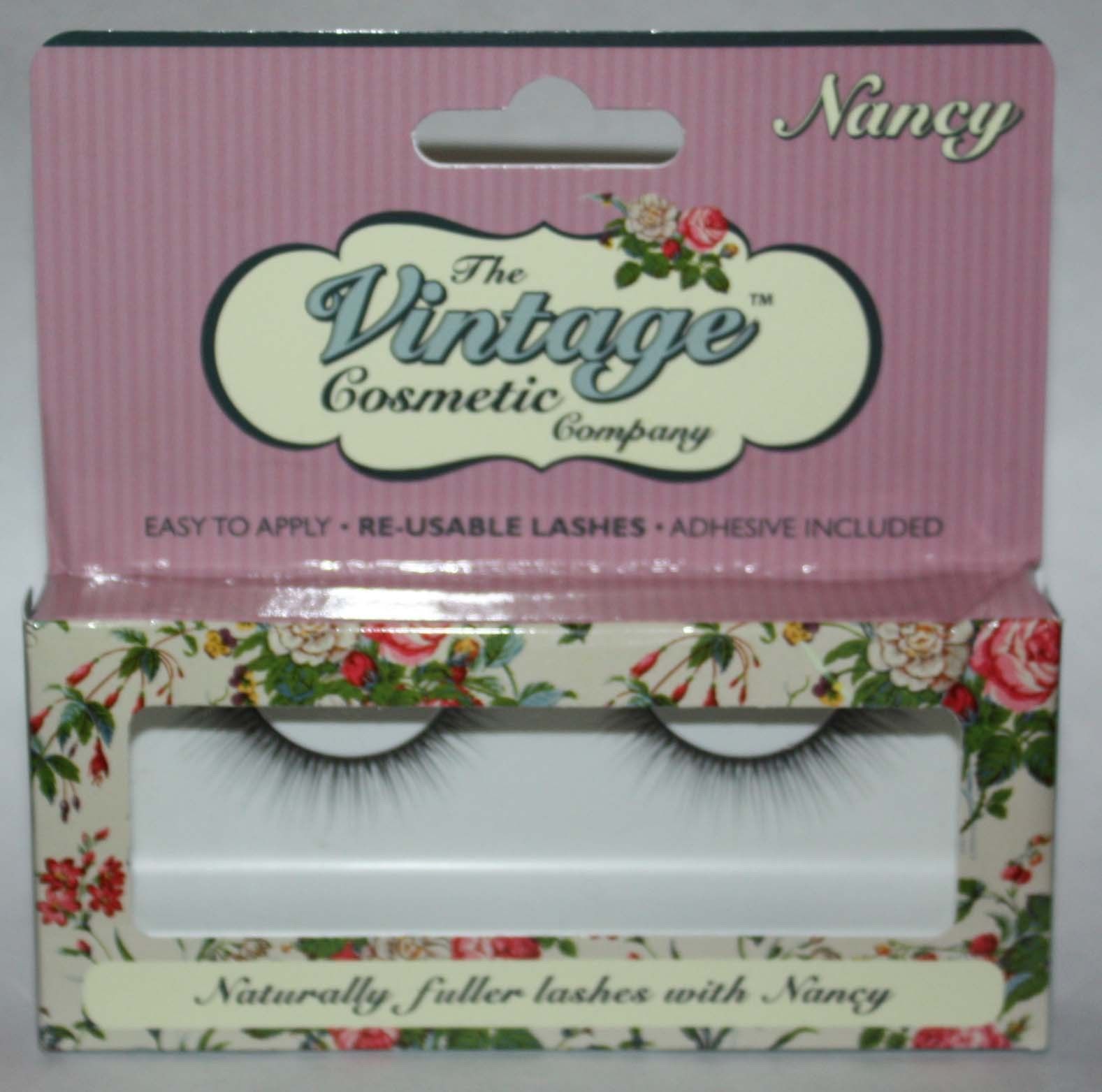 The Vintage Cosmetic Company NANCY Re-Usable False Eye Lashes
Naturally fuller lashes with Nancy

Apply your Nancy lashes to add the wow factor to a smoky eye or to enhance a natural look. The Nancy lash's fuller band means you'll need to add very little eyeliner. Add a shimmer of light eye shadow along the lower lash line to illuminate your eyes, and a little highlighter in the inner corners to finish the look.
These synthetic lashes are reusable, but remember to take all of your eye make-up off before bed to avoid messy pillows! Store your lashes safely back in their tray until your next trip out with Betty, Connie, Gracie, Kitty or Nancy.
Suitable for contact lens wearers. Adhesive included. Nancy strip lashes are 2.5cm in length.

Step-by-step:
Apply your eye make-up – no need for mascara, and remove your lashes from the tray using Tweezers.
Measure the lashes against your eye and trim as required. Add a thin layer of lash adhesive along the strip lash line and wait 30 seconds or until the glue is tacky, to apply.
Lightly press the lash onto the middle of your lash line, as close to the root as possible. When in place, gently dab it into place.
Looking fabulous? Great. Then gently give your lashes and the new applied strip lashes a pinch together. For extra volume, curl your lashes with and Eyelash curler or add a coat of mascara.

When you've finished, remove your lashes by pinching the inner corner and gently peeling them off.
Brand:
The Vintage Cosmetic Company
Condition:New
Shade:Natural
Features:Reusable
UPC:5060284310047