Urban Decay THE FEMININE PALETTE Eye Shadow Palette & Lip Gloss Case
05680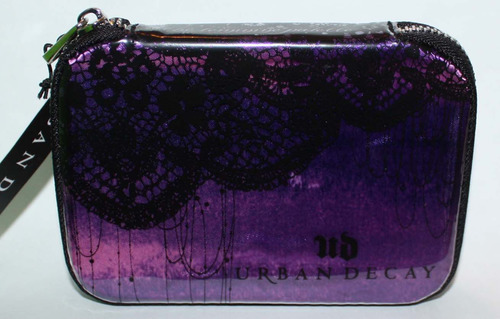 Urban Decay THE FEMININE PALETTE Eye Shadow Palette & Lip Gloss Case

For the days when you feel like playing up your girly side, there's the FEMININE PALETTE. Featuring a soft yet sultry mix of shimmering neutrals and smokier shadows, this set features a comeback by Skim - a light, peachy pearl shade from the Book of Shadows IV Palette that was also briefly available as a limited-edition Eyeshadow. To give the whole thing a cool, feminine vibe, it comes in a sleek vinyl case decked out with a purple and black lace design.

Each Eyeshadow features Urban Decay's Pigment Infusion System, the proprietary blend of ingredients that gives every shade its velvety texture, rich color, serious staying power and blendability. And the coordinating Lip Junkie Lipgloss gives lips that super shiny look without the gummy, gooey feel that many glosses have.

This palettes comes in a sleek zip-around case with a mirror for on-the-go touch-ups. Toss it in your bag and get into character whenever the mood strikes. The case even doubles as a cute clutch for a night out. Just pop out the shadow tray, toss in your ID and some cash and you're good to go!
Six Eyeshadows:
AC/DC (smoky greyish purple shimmer)
Bordello (pale mauve shimmer w/gold micro-glitter)
Gunmetal (dark metallic grey shimmer w/silver micro-glitter)
Hijack (deep metallic teal shimmer)
Lost (medium metallic brown shimmer)
Skimp (light peachy pearl).
One Lipgloss:
Wallflower (nude creamy pink).
Condition:New
Skin Type::All