1 Deep Steep Sugar Scrub 1 Lotion and 1 Dry Oil Spritzer Grapefruit * Bergamot
05573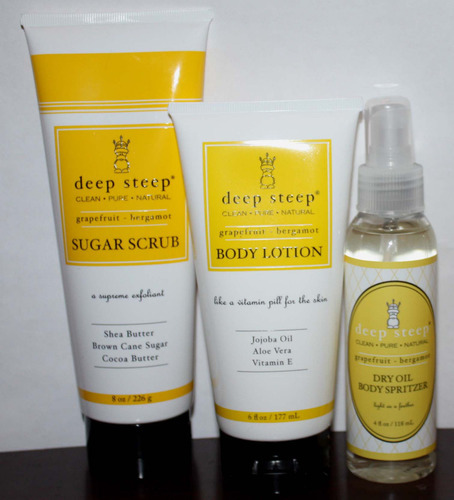 1 Deep Steep Sugar Scrub Grapefruit * Bergamot 8 oz
1 Deep Steep Body Lotion Grapefruit * Bergamot 6 oz
1 Deep Steep Dry Oil Body Spritzer Grapefruit * Bergamot 4 oz
Clean, pure & natural


Deep Steep's Body Lotion provides a light, everyday moisturizer while boosting your skin's natural ability to rehydrate.
A detoxifying infusion of Organic herbal extracts blended with Organic oils, butters, and vitamins, makes this light lotion the perfect anytime moisturizer of choice.


Moisturize and improve elasticity while improving regeneration of skin cells.
Our Sugar Scrub reigns supreme amongst exfoliants. Small rounded grains of pure brown sugar combine with Vitamin E, Shea Butter and Coconut Oil to reveal silky, lightly fragranced and irresistibly touchable skin.


Experience pure luxury with our fast-absorbing, non-greasy Dry Oil Body Spritzer. Add supreme hydration to your skin with Coconut, Pomegranate, Apricot Kernel and Olive Oils, and awaken your senses with any of our five deliciously natural fragrances. Make this part of your morning luxe routine and enjoy smooth, supple, lightly fragranced skin throughout the day.


No Parabens * No Sodium Lauryl Sulfate * No Mineral Oil
No Artificial Fragrances * No Chemical Preservatives
Gluten Free * Not Tested On Animals * Vegan
Condition:New
Manufactured in:United States