Argan Magic Cleansing Oil Antioxidant Facial Cleanser 2 oz
06510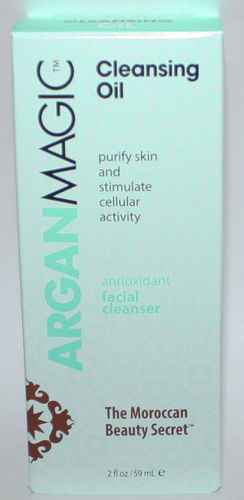 Argan Magic Cleansing Oil Antioxidant Facial Cleanser 2 oz
The moroccan beauty secret

Purify skin and stimulate cellular activity

An elixir of youth - superfood for the skin and hair

Washing your face with oil is good! Because cleansing with Argan Oil provides your skin with nourishing skin-loving essential fatty acids and antioxidants that help purisy as it soothes. It's ideal for sensitive skin. Say goodbye to bar soaps and scrubs that are abrasive to skin and further dry it out. This oil is blended with Argan Oil along with replenishing sweet almond, safflower seed and grapeseed oils to cleanse and protect.
Can be used on all skin types.
Directions: Put a few drops of the cleansing oil in your palms and smooth over your dry face. Then wet your skin and massage the cleanser in. It will emulsify into a light, gentle foam that rinses easily with lukewarm water.
Brand:
Argan Magic * Jocott Brands
Condition:New
Type:Cleanser
Skin Type::All
Formulation:Oil
Manufactured in:United States