Lot Of 3 Deep Steep ARGAN OIL Body Lotion With Warm Vanilla & Coconut 8 oz Each
05378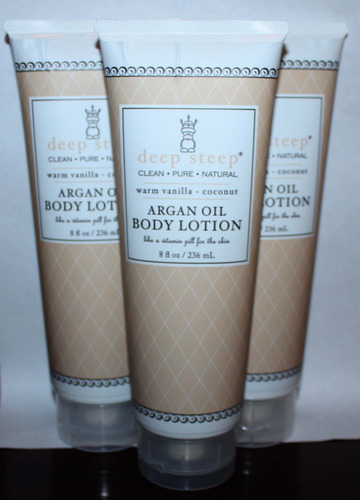 3 Deep Steep ARGAN OIL Body Lotion With Warm Vanilla & Coconut 8 oz Each
clean, pure & natural
"The dry skin antidote"
Body Lotion Details: Dry skin doesn't stand a chance with Deep Steep's Body Lotion,
a supremely rich & quickly absorbing mixture of Nature's hardest working emollients, intended to restore moisture to skin in need of intensive repair. Butters of Shea and Cocoa moisturize without feeling heavy or greasy on skin. Recommended for parched skin and arid climates.
No Parabens * No Sodium Lauryl Sulfate * No Mineral Oil
No Artificial Fragrances * No Chemical Preservatives* Gluten Free * Not Tested On Animals * Vegan
Condition:New
Gender:Women
Manufactured in:United States
UPC:674749062003